Conservation Science 2007
Conservation Science 2007 was organised jointly by the Institute of Conservation (Icon) Heritage Science Group (formerly the Institute of Conservation Science, ICS, at the time the conference was first planned), the Politecnico di Milano, Italy, and the University of Milan, Italy, and held at the Politecnico di Milano 10-11 May 2007. This was the second ICS conference: Conservation Science 2002 (Archetype Publications 2003) was held in Edinburgh, UK, in 2002.
Conservation Science 2007 had four aims:
-To initiate a debate about the meaning of 'a conservation scientist' around the world
-To present the best new research in conservation science
-To address themes not covered by recent conferences
-Knowledge transfer, networking and communication
Almost all of the papers from the plenary session From science laboratory to conservation practice, both papers and poster abstracts from the three working sessions on Developments in conservation practice, Non-destructive testing, Paper, wood and other polymers and posters on the theme of Architecture are published here. The 30 papers have all been peer reviewed. This volume provides a valuable overview of current research being carried out worldwide in conservation science.
Papers from the conference held in Milan, Italy 10-11 May 2007.
Foreword and acknowledgements
Joyce H. Townsend, Lucia Toniolo and Francesca Cappitelli
From science laboratory to conservation practice
Conservation science in the UK c.2007
Joyce H. Townsend
Where is heritage science in the UK?
James Tate
Contributions made by science to the Italian theory of restoration: an art historian's views
Giorgio Bonsanti
The education and training of conservation scientists
Rocco Mazzeo
Developments in conservation practice
Laser removal and chemical characterisation of graffiti paint spray and felt-tip markers
on stone monuments
Inez D. van der Werf, Edoardo Andriani, Antonio Albanese, Giuseppe Daurelio,
Danilo Marano, Luigia Sabbatini and Ida M. Catalano
Wax-based anti-graffiti coatings on artificially patinated copper: effects on copper release and patina composition
Sara Goidanich and Inger Odnevall Wallinder
Protection of stone surfaces against graffiti by perfluoropolyether derivatives
Simone Jacopo Marzolla, Maurizio Licchelli, Federico Caro and Giovanni Moggi
Shake, rattle and roll: vibration effects at the Hampton Court Music Festival
Ian Gibb, Adrian Phillips, Kathryn Hallett and Kate Frame
Development and evaluation of new treatments for outdoor bronze monuments
Rocco Mazzeo, Sven Bittner, Gilles Farron, Rute Fontinha, Daniel Job, Edith Joseph,
Paola Letardi, Martin Mach, Silvia Prati, Manuela Salta and Anaele Simon
Comprehensive investigation of the 'organic patina' on Renaissance and Baroque indoor bronze sculptures from the collection of the Kunsthistorisches Museum, Vienna
Vaclav Pitthard, Sabine Stanek, Martina Griesser, Helene Hanzer and Claudia Kryza-Gersch
Analysis of pigments from Pompeian wall paintings in the house of Marcus Lucretius
Ulla Knuutinen, Hanne Mannerheimo and Seppo Hornytzkyj
The agricultural side of world heritage: Italian case studies in a metropolitan area
Stella Agostini
Decay markers in polymers for the conservation of outdoor stone monuments
Monica Favaro, Franco Ossola, Patrizia Tomasin and Pietro Alessandro Vigato
The My Son temples in Vietnam: study of the materials for the preservation project
Luigia Binda, Cristina Tedeschi, Paola Condoleo, Erica Mannucci and Giuseppe Zerbi
Problems in drawing up standards to evaluate effectiveness and harmfulness in
cleaning operations
Antonio Sansonetti, Anna Maria Mecchi, Tommaso Poli and Marco Realini
Experimental study of the growth dynamics of artificially induced calcium oxalate
films for the conservation of marble
Dario Benedetti, Annalisa Zacco, Elza Bontempi and Laura Eleonora Depero
An evaluation of adhesives used for the repair of marble
Mersedeh Jorjani
Chemical-physical and aerobiological measurements for indoor air quality at the
Ca' Granda Historical Archive, Milan, Italy
Paola Fermo, Francesca Cappitelli, Andrea Piazzalunga, Roberta Vecchi, Gianluigi Valli, Elisabetta Zanardini and Claudia Sorlini
Microwave treatment: a non-invasive technique for disinfestation of works of art
Francesco Augelli, Bruno Bisceglia, Marco Ferri, Federica Foppiani, Elisa Italiano,
Antonio Diaferia, Nicola Diaferia, Federica Magli, Roberta Mastropirro, Alessandra Rizzo, Valerio Rosito and Roberta Tessari
Monitoring microbial colonisation on works of art by confocal microscopy and
molecular biology techniques
Franco Palla and Giovanni Morici
Biodeteriogenic fungi isolated from historic window glass in Certosa di Pavia, Italy
Maria Guglielminetti, Chiara Buratti, Elena Savino, Athos Callegari, Bruno Messiga
and Maria Pia Riccardi
Exploring water-based methods for the consolidation of waterlogged wood
Valter Castelvetro and Antonella Manariti
The sustainable consolidation of waterlogged wood: new approaches of impregnation
and polymerisation with a low environmental impact
Maria Perla Colombini and Francesca Modugno
Analysis of organic materials in nineteenth-century wallpapers by infrared spectroscopy
Alfredo Sarmiento, Maite Maguregui, Elisabetta Princi, Silvia Vicini, Kepa Castro,
María Dolores Rodriguez-Laso, Enrico Pedemonte and Juan Manuel Madariaga
The characterisation of materials in a polychrome wooden sculpture and the evaluation
of laser cleaning tests
Stamatis C. Boyatzis, Paraskevi Pouli, Anastasia Giakoumaki, Agnes Terlixi,
Eleni Tziamourani, Maria Philippoussi, Eugenia Perdikari and Eleni Ioakimoglou
PROPAINT: improved protection of paintings during exhibition, storage and transit
Terje Grontoft, Elin Dahlin, Marianne Odlyha, Mikkel Scharff, Guillermo Andrade,
Peter Mottner, Janusz Czop and Maria Perla Colombini
A study of Russian painting canvases
Anna Y. Mazina
Examining acrylic dispersion grounds and paints
Yonah Maor, Alison Murray, Alison Beaton, Alison Chown, Eric Hagan, Mike Kwong,
Crystal Maitland, Padina Pezeshki and Connor Twohig
The restoration of two blue and white Chinese porcelain plates: new applications of
colour science and analytical chemistry
Norman H. Tennent, Bodill Lamain, James H. Nobbs, Samantha Pugh, Samuel Lawton and Johannes T. van Elteren
Raman and Fourier transform infrared (FTIR) characterisation of image deterioration in
daguerreotypes from the studio of Southworth and Hawes
Silvia A. Centeno, Taina Meller, Nora W. Kennedy and Mark T. Wypyski
Non-destructive testing
Chemical imaging techniques for the characterisation of materials and techniques in the art of gilding: a case study from a mural by F. Lippi
Ilaria Bonaduce, Jaap J. Boon, Maria Perla Colombini and Giancarlo Lanterna
Optical and surface metrology applied to daguerreotypes
Patrick Ravines, Ralph Wiegandt, Richard Hailstone and Grant Romer
Recent developments in fluorescence spectroscopy for the analysis of protein-based
binding media found in art
Austin Nevin, Daniela Comelli, Gianluca Valentini, Iacopo Osticioli, Demetrios Anglos, Aviva Burnstock, Sharon Cather and Rinaldo Cubeddu
Scanning hyperspectral lidar fluorosensor: a new tool for fresco diagnostics
Francesco Colao, Roberta Fantoni, Luca Fiorani and Antonio Palucci
A multi-analytical approach to the conservation of wall paintings
Giovanni Cavallo, Julian James and Giacomo Luzzana
Microspectrofluorimetry: a new technique to unveil red paints
Ana Claro, Maria J. Melo, Stephan Schafer, J.S. Seixas Melo, Fernando Pina,
Klaas Jan van den Berg and Aviva Burnstock
A multispectral approach to non-invasive investigation of weld lakes and weld-dyed textiles
Catia Clementi, Costanza Miliani, Aldo Romani, Gianna Favaro and Antonio Sgamellotti
Application of surface-enhanced vibrational spectroscopy techniques for the non-invasive analysis of flavonoid dye molecules
Zuzana Jurasekova, Concepcion Domingo, Jose Vicente Garcia-Ramos and
Santiago Sanchez-Cortes
Hyperspectral image spectroscopy: a 2D approach to the investigation of polychrome
surfaces
Marcello Picollo, Mauro Bacci, Andrea Casini, Franco Lotti, Marco Poggesi
and Lorenzo Stefani
Non-invasive imaging of subsurface paint layers with optical coherence tomography
Haida Liang, Borislava Peric, Marika Spring, David Saunders, Michael Hughes
and Adrian Podoleanu
Optical coherence tomography: a novel tool for the examination of oil paintings
Ludmila Tyminska-Widmer, Piotr Targowski, Michalina Gora, Magdalena Iwanicka,
Teresa Lekawa-Wyslouch and Bogumila Rouba
Spectral transparency of historic artists' pigments
Borislava Peric, Sophie Martin-Simpson, Marika Spring and Haida Liang
Production and characterisation of lead-tin-antimony based yellow pigments
Claudia Pelosi, Ulderico Santamaria, Giorgia Agresti, Elisabetta Mattei and Alberto De Santis
Studying restorations through colorimetry: Andrea Mantegna's Madonna dei Cherubini, and Madonna Forti formerly attributed to Antonello da Messina
Gianluca Poldi and Simone Caglio
A portable XRF-XRD instrument for in-situ analysis of cultural heritage objects
Alessandra Gianoncelli, Jacques Castaing, Luc Ortega, Eric Dooryhee, Myriam Eveno, Joseph Salomon, Pierre Bordet, Jean-Louis Hodeau and Philippe Walter
Portable XRF for the examination of artists' materials and cultural heritage
Chris McGlinchey and Karen Trentelman
Transcribing nature on paper: effortless complexity in Winslow Homer's watercolours
Francesca Casadio and Kristi Dahm
X-ray fluorescence of the mural paintings in the crypt of St Bavo's Cathedral,
Ghent, Belgium
Marina Van Bos and Walter Schudel
A scanning device for multispectral imaging of paintings
Claudio Bonifazzi, Pierluigi Carcagni, Andrea Della Patria, Raffaella Fontana, Marinella Greco, Maria Mastroianni, Marzia Materazzi, Enrico Pampaloni, Luca Pezzati and Afra Romano
A portable multispectral imaging system for remote in-situ examination of wall paintings
Haida Liang and Tom Vajzovic
Characterisation of cultural artefacts using electrochemical techniques
Virginia Costa
Identification of degradation products in historical bricks by means of combined Raman
spectroscopy and scanning electron microscopy
Maite Maguregui, Riccardo Tagliapietra, Manuel Angulo, Irantzu Martinez-Arkarazo,
Kepa Castro, Juan Manuel Madariaga and Alan Brooker
Ground penetrating radar: a non-destructive tool to assess the condition of rock art sites
Frederic Huneau, Stephane Hoerle, Alain Denis and Andrew Salomon
Progressive colour change in museum objects: a case study at the National Cinema
Museum, Turin, Italy
Chiara Aghemo, Anna Pellegrino and Gabriele Piccablotto
Characterisation of carbonaceous particulates at the molecular level by means of
innovative optical techniques
Giuseppe Zerbi, Matteo Tommasini, Giorgio Fustella and Anna Ferrugiari
Paper, wood and other polymers
Study of degradation of ancient paper using neutron techniques
Claudia Mondelli, Parker Stewart and Annibal Cuesta Ramirez
Use of an ecopermanence index to characterise the oxidation of aged paper
Luigi Campanella and Cecilia Costanza
The use of polymeric materials in the field of paper conservation
Elisabetta Princi, Silvia Vicini and Enrico Pedemonte
Biodeterioration effects of fungi on inorganic components in paper
Flavia Pinzari, Antonella De Mico and Giovanna Pasquariello
A substrate utilisation pattern (SUP) method for evaluating the biodeterioration
potential of micro-aeroflora affecting libraries and archival materials
Flavia Pinzari and Mariasanta Montanari
Respirometry: a technique to assess the stability of archaeological wood and other materials containing sulphur compounds
Theo Skinner and Mark Jones
Consolidation of waterlogged woods by in-situ polymerisation of isoeugenol
Marco Orlandi, Pasquale Agozzino, Dorina Ines Donato, Gianna Giachi, Eeva-Liisa Tolppa and Luca Zoia
Observing penetration of acrylic solutions into wood with neutron radiography and
Raman spectroscopy
Irena Kucerova, Eberhard Lehmann, Martina Ohlidalova and Miroslava Novotna
Fourier transform infrared (FTIR) monitoring of the artificial ageing of commercial
acrylic and vinyl adhesives/consolidants
Stamatis C. Boyatzis, Demetrios Charalambous and Eleni Kotoula
On-site collections management: NIR characterisation and condition monitoring
of modern textiles
Emma Richardson, Graham Martin and Paul Wyeth
Investigations of an ultramarine blue acrylic artists' paint
Rebecca Ploeger and Alison Murray
Ageing properties and stability of artists' alkyd paints
Rebecca Ploeger, Dominique Scalarone and Oscar Chiantore
Architecture
Conservation meets modern architecture: technological study of the metal surfaces in the Tugendhat House in Brno, Czech Republic
Tatjana Bayerova and Martina Griesser-Stermscheg
Cast stone: characterisation, use, deterioration and conservation methods
Roberto Bugini, Danilo Biondelli and Valeria Saltari
Preliminary investigation of Er:YAG laser ablation for the removal of lichen from stone
Adele DeCruz, Richard A. Palmer, Chicita F. Culberson, Alessia Andreotti,
Maria Perla Colombini and Daniela Pinna
Investigation of the conservation of epoxy resin-bonded artificial stone
Martina Huckova and Petr Kotlik
A new approach to conservation mortars designed for the urban environment
Ioannis Karatasios, Vassilis Kilikoglou, Panagiotis Theoulakis, Belinda Colston and David Watt
New perspective on consolidation of historical mortars: silicate esters on alkaline
substrates
Petr Kunes and Petr Kotlik
Polymeric grids for the rehabilitation of masonry structures
Alberto Dusi, Marco Mezzi and Elena Manzoni
Dry ice blasting as a cleaning method for historical buildings: preliminary assessment
of feasibility, efficiency and compatibility
Vilma Gabriela Rosato, Umberto Casellato, Monica Favaro and Silvia Susana Zicarelli
Monitoring the deposition of airborne particulate matter on treated stone surfaces
Nikolaos-Alexis Stefanis, Ioannis Karatasios, Maria Kliafa, Panagiotis Theoulakis,
Vassilis Kilikoglou and Cristodoulos Pilinis
Problems caused by moisture and salt migration in the Capithulum Hall of the
Dome Cathedral, Riga, Latvia
Jana Svare, Linda Krage, Inta Vitina, Rolands Lusis and Lauma Lindina
Characterisation of mortars and stuccos from the Theatre of Marcellus and the
Porticus Octaviae in Rome
Mauro Tomassetti, Luigi Campanella, Paola Ciancio Rossetto, Tania Gatta
and Rossella Grossi
Brownish alterations on the marble statues of Orsanmichele (Florence): a diagnostic
approach
Lucia Toniolo, Alfredo Aldrovandi, Roberto Boddi, Andrea Cagnini, Annamaria Giusti,
Daniela Pinna, Simone Porcinai, Rinaldo Cubeddu, Daniela Comelli and Gianluca Valentini
Mediterranean marble identification by chemical instrumental and chemometric methods
Giovanni Visco, Luigi Campanella, Emanuela Gregori and Mauro Tomassetti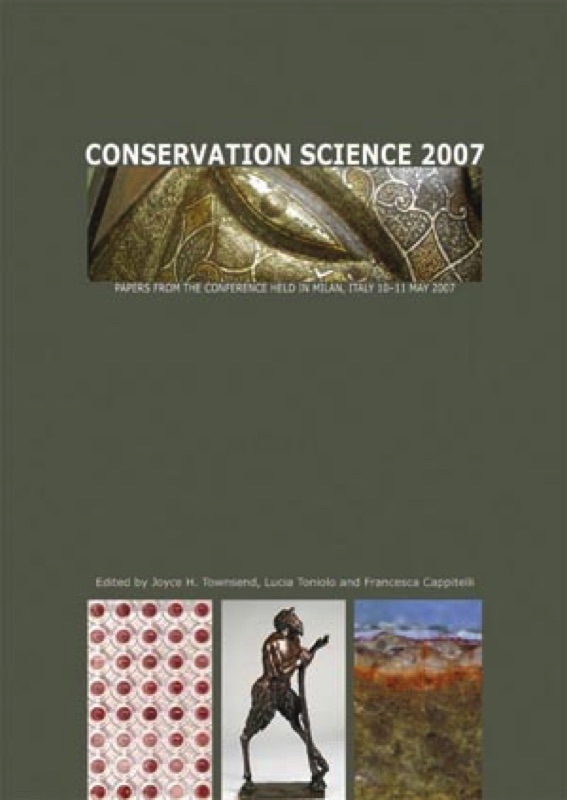 ISBN 9781904982340
Binding Paperback
Dimensions 209 x 296mm
Pages 308
Illustrations 72 colour, 48 halftone
Published July 2008
Price £49.50