Current Practices and Challenges in Built Heritage Conservation
IIC 2020 Edinburgh Congress preprints
These are preprints from the IIC Edinburgh Congress 2020 Online. The 2020 Congress 'Current Practices and Challenges in Built Heritage Conservation' was devised to bridge the divide between built heritage and in-situ collections.
Foreword
Julian Bickersteth
Preface
Jane Henderson
Acknowledgements
Sarah Stannage
Articles
Conservation for Mission: Conservation of Historic Church Interiors in the Church of England
Janet Berry, Louise Hampson and Adam Klups
Returning Uluru
Julian Bickersteth, David West and David Wallis
Improved Daylight Management of Historic Showrooms: A Methodology Based on Detailed Recording and Analysis
Nigel Blades, John Mardaljevic, Katy Lithgow, Stephen Cannon-Brookes, Lisa O'Hagan and Sarah McGrady
Conservation Design Assist: An Innovative Model to Integrate Conservation Expertise Within the Major Rehabilitation of Canada's Parliamentary Centre Block
James Bourdeau, David Edgar, Eeva Koski, Ida Pohoriljakova, Tania Mottus and Roger Baird
Integrating Art Conservation and Building Restoration in the Care of Organic Architecture
Judith Bützer and Katharina Klauke
The Preservation of Façades for Pre-Hispanic and Historical Buildings in Mexico
Elisa Carmona Vaillard and Alejandra Lechuga Álvarez
Post-excavation Conservation of the Mausoleum of the Dingtao Queen, Western Han Dynasty
Qian Cheng, Dawa Sheng, Min Luo and Ling Wang
The Slurry Wall: Past, Present, and Future
Lisa Conte, Joe Graham-Felsen and Amanda Trienens
The Recreation of Historic Ceiling Tiles for Buxton Crescent
Paul Croft, Rhiannon Clarricoates, Michael Poole and Phillipa McDonnell
East Anglia's Medieval Rood Screens: Conserving Sensitive Painted Artworks in Uncontrolled Church Environments
Tobit Curteis, Lucy Wrapson and Janet Berry
Creating a Sustainable Museum Within Historic Buildings and a Functioning Almshouse: The Charterhouse Museum
Ellie Darton-Moore and Ann-Marie Miller
Effective Communication and Team Working in the Conservation of Private Buildings: The Rediscovery of Original Surfaces in the Palazzo Berlendis, Venice
Giulia De Florio and Elisa Pannunzio
From Forgotten Remnant to a New Beginning: Planning the Relocation of the Zadkine Relief from the Cinema Metropole, Brussels
Judy De Roy, Sam Huysmans, Laurent Fontaine and Marina Van Bos
The External and Internal Decorative Finishes of the Hill House, Helensburgh: Challenges of an Early Twentieth-century Dwelling House
Bryan Dickson, Mel Houston and Suzanne Reid
Conservation Challenges for Thangkas in the Buddha Room of the Hall of Mental Cultivation (Yangxin dian), Palace Museum, Beijing
Xiaoji Fang, Jianwei Ju, Jie Wang, Rui Zhang, You Wang, Qian Zhou, Ningchang Shi and Jirong Song
Delivering Decisions with Due Diligence: A Research-led Approach for the Conservation of the Rubens Ceiling at Banqueting House, Whitehall, London
Kate Frame, Constantina Vlachou-Mogire, Kathryn Hallett and Sarah Pinchin
Scagliola Interiors in Vienna 1800–1900: Material, Development and Conservation
Katharina Fuchs and Gabriela Krist
Application of Nanolimes for the Consolidation of Limestone from the Medieval Bishop's Palace, Lincoln, UK
Francesca Gherardi, Jorge Otero, Ronald Blakeley and Belinda Colston
Change and Continuity: Material and Ethical Issues in the Restoration of Wall Paintings in the Cathedral of Saint Lawrence, Switzerland
Jacopo Gilardi and Elisabeth Manship
The Old and the New: Twenty-First Century Considerations for Buildings Housing Collections
Isobel Griffin and Jacqueline Ridge
Finding Sustainability in the Desert: Conservation of the Archaeological Site of Dangeil, Sudan, and Its Associated Collections
Francesca Guiducci, Tracey Sweek and Julie Anderson
Integrated Strategy to Assess Conservation Treatments on Sandstone
Davide Gulotta, Katrin Wilhelm, Julie Desarnaud, Jorge Otero, Richard Grove, Alick Leslie and Heather Viles
Tracking Trends: A Study of Post-Earthquake Approaches to Conservation in Patan, Nepal
Martina Haselberger and Gabriela Krist
Working Together: Community, Conservation, and Preservation Strategies for Royal Painted Tombs at El-Kurru, Sudan
Pamela Hatchfield, Janelle Batkin-Hall, Camille Bourse, Jan Dariusz Cutajar and Evelyn Mayberger
On-site Surface Cleaning of Japanese Architecture Using Gels Incorporating Organic Solvents
Noriko Hayakawa, Yuka Fujii, Noriko Yamamoto and Chie Sano
Begin with Benefits: Reducing Bias in Conservation Decision-Making
Jane Henderson, Robert Waller and David Hopes
Protecting the National Gallery's Paintings Collection From the Impact of Vibration During Building Work
Catherine Higgitt, Lynne Harrison, Tomasz Galikowski, Mike Pau and Peter Henson
The Burrell Renaissance: Unpicking a Collection and Its Building
Helen M. Hughes and Stephanie de Roemer
The Nimrud Rescue Project
Jessica S. Johnson, Zaid Ghazi, Katharyn Hanson, Brian Michael Lione and Kent Severson
And So To Bed: Inside or Outside the Box?
Maria Jordan and Martha Infray
Conservation and the Rural Church: The State of Play and the Challenges Ahead. Lessons from the Diocese of Gloucester, UK
Adam M. Klups
Climatic Protection of Historical Vaults with Lime–perlite Mortar
Poul Klenz Larsen
Vibration Monitoring of Daniel Maclise's Wall Painting Trafalgar
Richard Lithgow, Samuel Whittaker, Tom Bower, Katey Corda, Elizabeth Woolley, Catherine Higgitt,
Constantina Vlachou-Mogire and Caroline Babington
Deterioration Caused by A New Support Layer Bonded with Epoxy Adhesive to the Mural Paintings at Fengguo Temple in Yixian, Liaoning, China
Cheng Liu, Kaoru Suemori, Qian Li, Yuan He, Fei Wang and Haiying Kang
Logistical Challenges in the Relocation of Monumental Modern Architectural Artworks
Rosa Lowinger, Christina Varvi and Kelly Ciociola
Understanding the Risk of Visitor Developments and Operational Changes to Built Heritage Fabric
Naomi Luxford
Materials Used for Paper-based Interior Decoration in the Hall of Mental Cultivation (Yangxin dian) in the Palace Museum, Beijing
Yue Ma, Lifang Ji and Yong Lei
Indigenous Stewardship of Decolonised Rock Art Conservation Processes in Australia
Melissa Marshall, Kadeem May, Robin Dann and Lloyd Nulgit
The Japanese and Chinese Paintings at Taliesin: Their Display and Conservation
T. K. McClintock, Lorraine Bigrigg and Deborah LaCamera
A Cross-Disciplinary Approach to the Conservation of Manchester Town Hall
Meg McHugh
Assessing the Long-term Success of Reigate Stone Conservation at Hampton Court Palace and the Tower of London
Martin Michette, Heather Viles, Constantina Vlachou-Mogire and Ian Angus
Preventive Conservation Measures for Stone Statuary in the Outdoor Environment: Three Case Studies from Austria
Marija Milchin, Martina Haselberger and Gabriela Krist
Geothermal Technology for Sustainable Climate Control in an Historic House
Patricia Miller
Innovative Water-Reduced Injection Grouts for the Stabilisation of Wall Paintings in the Hadi Rani Mahal, Nagaur, India: Design, Testing and Implementation
Chiara Pasian, Charlotte Martin de Fonjaudran and Amarilli Rava
Integrating the Classroom with the Community: Collaboration with the Hewitt Mansion in Buffalo, New York
Rebecca Ploeger
Cleaning of Oil-on-Stone Wall Paintings: Lessons Learned From Easel Painting Conservation
Jennifer Herrick Porter, Chiara Pasian, Roberta De Angelis and Nathalie Debono
3D Documentation and Analysis of Porosity in Deteriorated Historic Brick
Chandra L. Reedy
Small Changes to Avoid Major Loss: Collaborative Conservation Practices at Rouse Hill House and Farm
Sarah-Jane Rennie
Addressing the Challenges of Conserving and Maintaining Mosaics in Storage
Thomas Roby, Livia Alberti, Cristina Caldi, Ermanno Carbonara, Mustapha Atki and Myriam Ziade
Organic Relationship between Architecture and Decorative Elements: Challenges in the Conservation of the Aztec Skull Altar, Mexico City
Marlene Sámano Chong, Irlanda Fragoso Calderas and Martha Lameda Díaz Osnaya
Casa de Pueblo, Spain: Bridging the Divide Between Built and Moveable Heritage Conservators Through Social Media
Alberto Sanchez Sanchez
Removing Ingrained Soiling from Medieval Lime-based Wall Paintings Using Nanorestore Gel® Peggy 6 in Combination with Aqueous Cleaning Liquids
Kathrine Segel, Isabelle Brajer, Michelle Taube, Charlotte Martin de Fonjaudran, Michele Baglioni, David Chelazzi, Rodorico
Giorgi and Piero Baglioni
Conservation of Exterior Wall Paintings in Slovenia: Deficiencies in Traditional Practice and Solutions for More Sustainable Preservation
Blaž Šeme 
A Multi-Analytical Investigation of the Materials and Painting Techniques of Wall Paintings in the Eighth to Tenth-Century CE Jain Caves at Ellora, India
Anjali Sharma and Manager Rajdeo Singh
Suffrage and Smoke: The UK Parliamentary Archives' Challenges in Caring for Collections Housed in the Palace of Westminster
Meagen Smith and Mari Takayanagi
Copying Artworks for Preserving the Entirety of Architectural Monuments in Ukraine
Iryna Somyk-Ponomarenko
Mind the Shadow Gap: Reflecting on 20 Years of the Museum of Scotland and Looking Forward to the Future
Anna Starkey
Comparison of Environmental Control Strategies for Historic Buildings
David Thickett
Heating or Dehumidification? Maintaining Appropriate Relative Humidity Levels in Historic Buildings Containing Museum Collections
Rob Thomson
Challenges of Conserving Wall Paintings: A 30-Year Perspective
Sibylla Tringham and Stephen Rickerby
Developing 'Smart' Solutions for Light Management for Historic Collections
Constantina Vlachou-Mogire, Giulia Bertolotti, Kathryn Hallett and Kate Frame
The Chinese Wallpaper from Strathallan Castle, Scotland, and its Peregrinations
Pauline Webber and Kathryn Myatt Carey
A Reflection on Current Conservation Policy through the Adaptive Re-use of Haw Par Mansion and Conservation of Three Tiger Balm Garden Sculptures
Kit Wong and Eddy Leung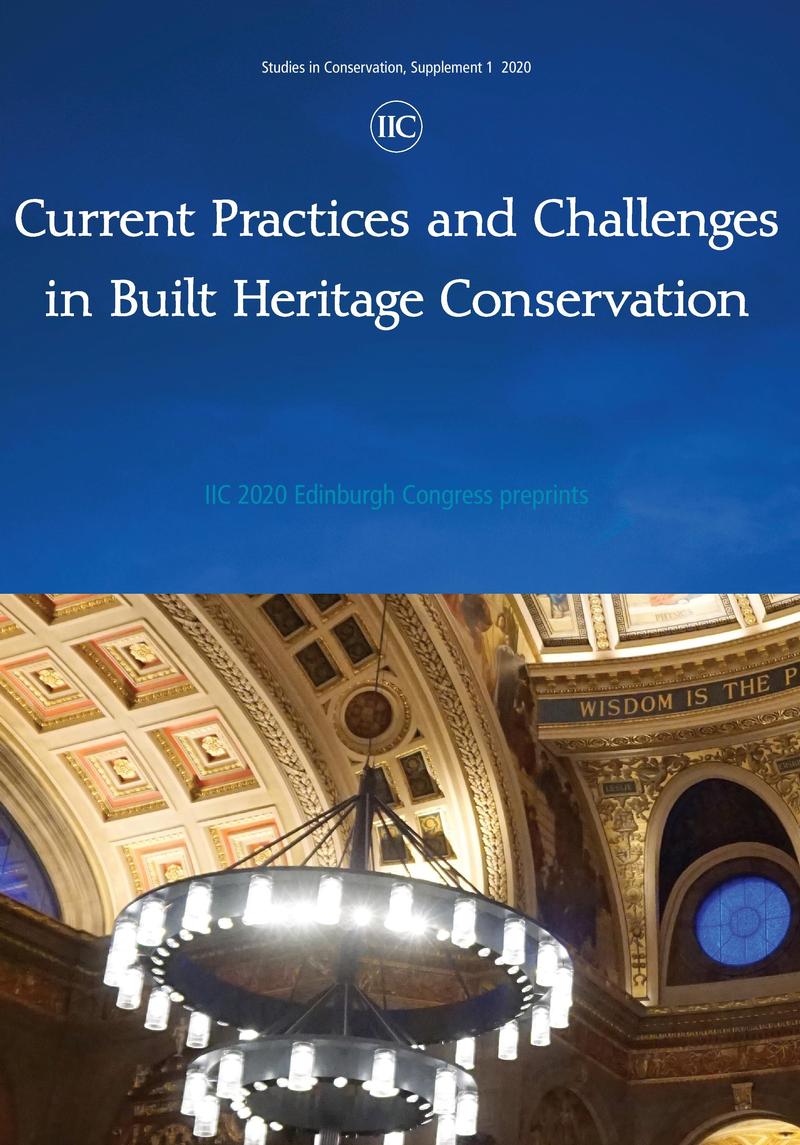 ISBN IIC2020-00393630
Binding Paperback
Pages 350
Published December 2020
Price £75.00