Dyes in History and Archaeology 16/17
Interest in all aspects of dyestuffs has grown considerably since an informal meeting of researchers twenty years ago developed into the annual meetings of Dyes in History and Archaeology, with the journal of the same name publishing a selection of papers presented.
Analysis has revealed that the early 20th-century clothing and textile designer, Mariano Fortuny, used natural dyes for his glorious silks and cottons. Natural indigo is still used in some parts of the world, but dyeing with it is harder, less pleasant work than is popularly supposed. Species of Coleus - one of which is the flame nettle, a popular houseplant in the West - are used as sources of red, blue, purple and green dyes in Papua New Guinea and other parts of Asia. Research into the history of dyestuffs covers many disciplines and their chemistry is also of fundamental interest: the development of synthetic dyes was a breakthrough for chemical technology and industrial processes, and analysis has enabled the dyestuffs used on historical textiles and in pigments used in paintings to be identified.
These topics were among those presented at the 16th meeting, held in Lyons in 1997, and the 17th meeting, held in Greenwich, London in 1998, and discussed in the papers included in this book. They reveal the variety of disciplines with a common interest in this fascinating, colourful world.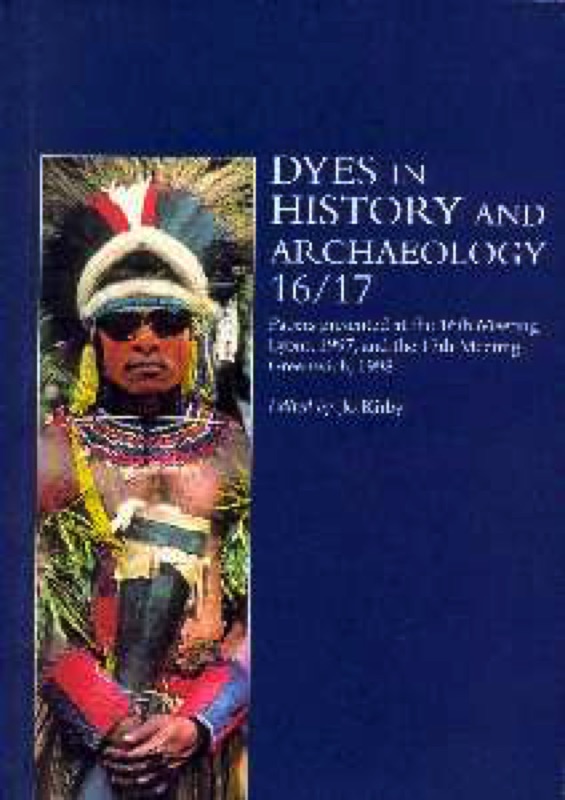 ISBN 1873132972
Binding Paperback
Dimensions 175 x 245mm
Pages 240
Illustrations 9 colour, 22 halftone
Published December 2001
Price £40.00