Dyes in History and Archaeology 19
At what point does romantic invention become tradition, legend blend into historical fact? Surely the tartan of Bonnie Prince Charlie, that epitome of folklore, was dyed in the colours of mists and heathers with local Scottish dyestuffs? The truth is more prosaic, but no less interesting: archival research and analysis of dyestuffs used in 18th- and 19th-century tartans suggests that, while some local plant dyes may have been used, Scottish dyers were importing a range of widely available brilliant dyes.
It is particualarly appropriate that tartans should be a subject for study at the 19th Meeting of Dyes in History and Archaeology, held in 2000 at the National Museums of Scotland, Edinburgh. The value of complementary studies in the examination of artefacts - the evaluation of historical documents and dyestuff analysis, demonstrated in the tartans project - is underlined by other papers in this volume in which this approach was taken: studies of 17th-century Inca garments (exemplified by the silver figurine on the cover), and the recipe for a yellow pigment attributed to a 17th-century English painter and horticulturalist, Sir Nathaniel Bacon. Documents themselves are also the subject of investigation. Natural antioxidants in materials used by medieval illuminators may have helped to protect the paper or parchment from damage.
Pharmaceutical price lists are little know but valuable aids for research into historical materials. Archaeological textiles and dyestuffs themselves are also discussed: several papers describe methods to obtain the colour purple. Historical objects must also be conserved. One problem that may occur is dyestuffs on paper or textiles bleeding during attempted cleaning, but a method of fixing the dyestuff temporarily, described in this volume, may provide an answer.
This volume is dedicated to the memory of Helmut Schweppe.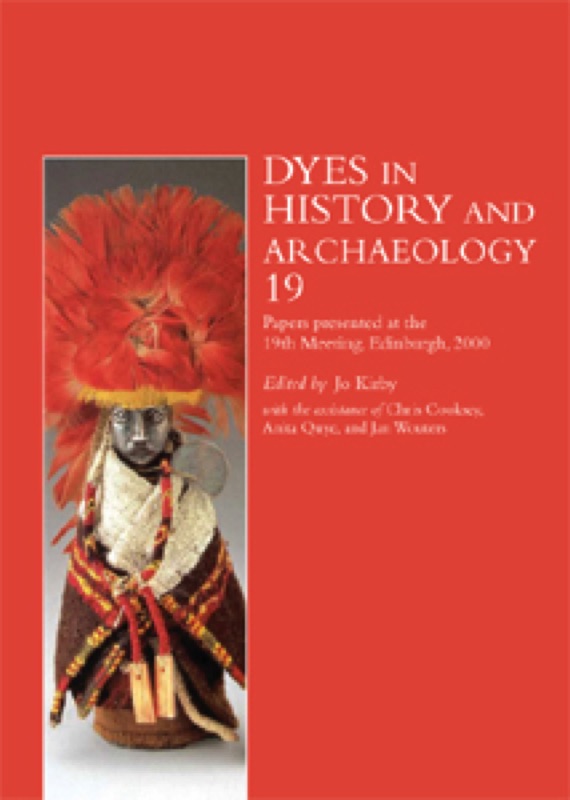 ISBN 187313214x
Binding Paperback
Dimensions 175 x 245mm
Pages 174
Illustrations 31 colour, 38 halftone
Published June 2003
Price £40.00