Gilded Metals
History, Technology and Conservation
Gold has been celebrated as a symbol of luxury, wealth, and power throughout history and around the world. This rare metal is prized for its color, its unique luster, its special working properties, and its permanence. The technique of gilding, creating a thin layer of gold over a less valuable material, developed to satisfy the desire for gold.
Through this lavishly illustrated volume, readers will discover how various cultures created golden surfaces and how the allure of gold inspired new and ingenious technology. Each chapter is authored by experts, discussing gilding in ancient societies in Europe, Asia, northern Africa, and the Americas, as well as medieval gilding practices and more recent technologies in the West. Gilding on architectural metal and outdoor sculpture is also included. Readers will learn about foil and leaf gilding, depletion and diffusion techniques, fire gilding and electroplating, among others. Those interested in how and why gilded metal surfaces deteriorate will find answers in a chapter on corrosion chemistry.
Cleaning gilded surfaces takes special expertise. Readers will find valuable insights throughout the book on conservation concerns and considerations, such as why one should never polish gold on a work by Faberge, and cautions on cleaning "gilded" surfaces that may not be gold at all. Some chapters are devoted to case studies of conservation treatments.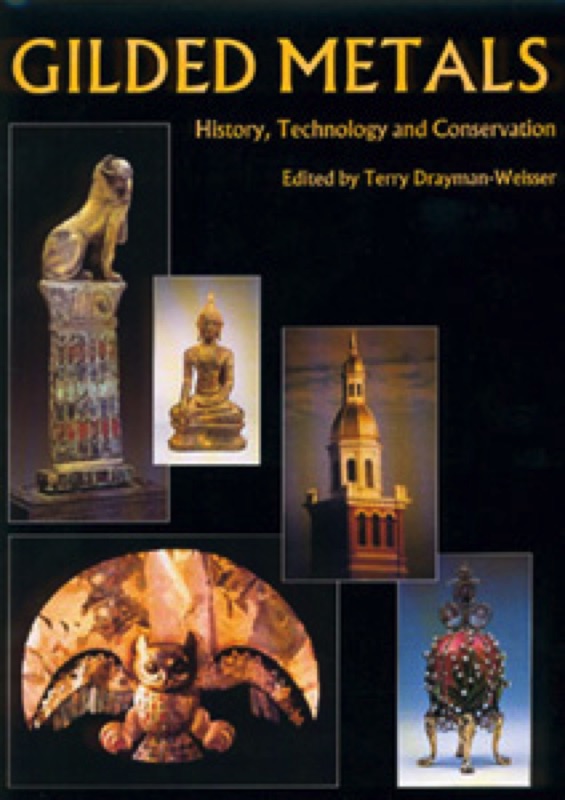 ISBN 187313276x
Binding Hardback
Dimensions 225 x 303mm
Pages 412
Illustrations 177 colour, 140 halftone
Published May 2000
Price £90.00