IIC 1996 Copenhagen Congress
Archaeological Conservation and its Consequences
Preprints of the Contributions to the Copenhagen Congress 26-30 August 1996
Mamshit, Israel, and San Paolino alla Regola, Rome: what cooperation or interference between archaeologist and conservator can achieve
Romana Albini, Andreina Costanzi Cobau and Chiara Zizola
Masking and misinterpreting cotton fibers: dangers associated with the fiber analysis of archaeological textiles
Mary Ballard and Irene Skals
Affordable versus optimal conservation: considerations in preserving an ancient tomb
Zdravko Barov and Constance Faber
Artifact or information? Articulating the conflicts in conserving archaeological textiles
Mary Brooks, Alison Lister, Dinah Eastop and Tarja Bennett
Field conservation at Kaman-Kalehöyük: an holistic approach
Scott Carroll and Glenn Wharton
Preservation and conservation of archaeological objects in leather and vegetal fibres
Laura Maria Chiotasso and Costantino Sarnelli
Preventive conservation for archaeological sites
Mike Corfield
Preservation of the Laetoli hominid trackway in Tanzania
Martha Demas, Neville Agnew, Simon Waane, Jerry Podany, Angelyn Bass and Donatius Kamamba
Conservation record for the archaeologists?
Diane Dollery and Jane Henderson
Washing away the evidence
Vanessa Fell
Buried but not forgotten: sensitivity in disposing of major archaeological tombs
Malcolm F. Fry
Up to standard: planning the needs of an archaeological archive
Helen Ganiaris and Kate Starling
The effect of various conservation treatments on the surface of metals from waterlogged sites in London
Dana Goodburn-Brown
A review of some conservation procedures for the reburial of archaeological sites in London
Dana Goodburn-Brown and Richard Hughes
Conservation of Neolithic lime plaster statues from 'Ain Ghazal
Carol A. Grissom
Celtic finds in Basel: testing the conservator's stamina
Janet K. Hawley
The conservation treatment of looted antiquities and the responsibilities of conservators
Helena F. Jaeschke
From a waterlogged site to the archaeologist's desks – new packing methods with a minimum of handling
Eva Lilja Jensen, Eva Salomonsen and Kristiane Strætkvern
Unraveling the Gordion knot: the history of conservation at the 'City of Midas'
Jessica S. Johnson, Ellen Salzman and Julie Unruh
Excavated window glass: a neglected resource?
Barry Knight
The Kenchreai opus sectile glass panels revisited: a comparison and assessment of previous treatments
S.P Koob, R.H. Brill and D. Thimme
In situ conservation of cannon and anchors on shipwreck sites
Ian Donald Macleod
Investigation of environmentally driven deterioration of the Great Sphinx and concepts for protection
Shin Maekawa and Neville H. Agnew
Assessment of corrosion measurements for soil samples excavated at a seventeenth-century colonial plantation site
Cathy Mathias
Zippori, Israel: the conservation of the mosaics of the Building of the Nile
Roberto Nardi
Developing a conservation strategy in a rescue archaeology environment
Sonia O'Connor
Organic residue analysis in ceramic studies: implication for conservation treatment and collection management
Tania F.M. Oudemans and David Erhardt
Conservation: preservation versus analysis?
Alice Boccia Paterakis
Site conservation during excavation: stabilization and consolidation of Roman funerary monuments in Carthage
Thomas C. Roby
Archaeological collections – alternative storage strategies
Roar Sæterhaug and Elizabeth E. Peacock
A short history of archaeological conservation
Catherine Sease
From grave to showcase: modern care for ancient textiles
Irene Skals
The conservation of ancient Phrygian furniture from Gordion, Turkey
Krysia Spirydowicz
Preserving unstable painted surfaces on freshly excavated terracotta: dilemmas and decisions
Donna K. Strahan
A condition survey of glycerol treated freeze-dried leather in long-term storage
Dean Sully and Kirsten Suenson-Taylor
The technical examination and conservation of blackened Delftware from anaerobic sites
Norman H. Tennent, Thomas Baird and Lorraine T. Gibson
The Isle of the Dead: an integrated approach to the management and natural protection of an archaeological site
Andrew Thorn and Andrew Piper
Sacrificing the wood for the trees – should conservation have a role in the antiquities trade?
Kathryn Walker Tubb and Catherine Sease
Deliquescence and recrystallization of salts in the Dead Sea Scrolls
Arie Wallert
Archaeological archives – access for all
Jonathan Wallis and David Pearson
Chloride extraction from archaeological iron: comparative treatment efficiencies
David Watkinson
Blood residues on archaeological objects – a conservation perspective
Andrew S. Wilson, Noreen Tuross and Melvin J. Wachowiak Jr
IUPAC terminology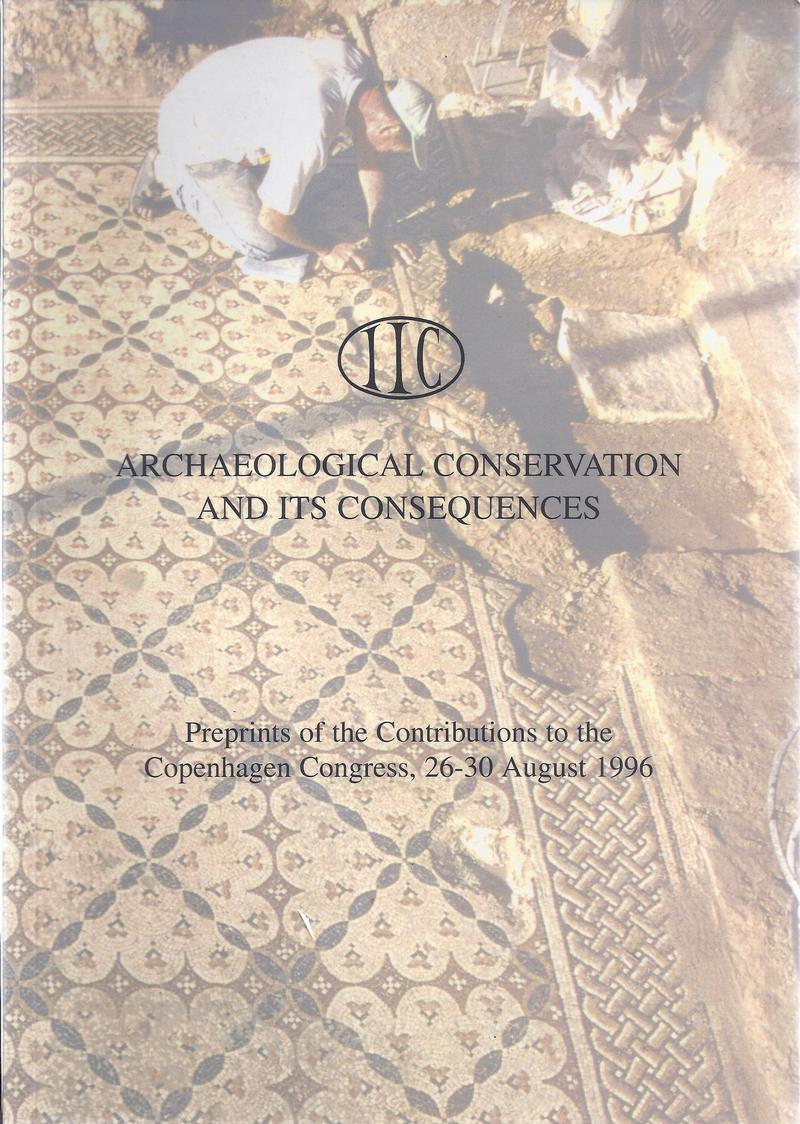 ISBN /ref number: ARCH06
Binding Paperback
Dimensions 297 x 210mm
Pages 224
Illustrations 7 colour, 152 halftone
Published December 1996
Price £40.00