IIC 1998 Dublin Congress
Painting Techniques - History, Materials and Studio Practice
Contributions to the Dublin Congress 7-11 September 1998
Some observations on panel painting technique in Tuscany from the twelfth to the thirteenth century
Marco Ciatti
Hispano-Muslim wall paintings
Carmen Rallo and Enrique Parra
The technique of the mural paintings in the choir of Angers Cathedral
Sylvie Demailly, Paulette Hugon, Marcel Stefanaggi amd Witold Nowik
The technical study of a late thirteenth-century Byzantine marginal psalter from the Walters Art Gallery
Abigail Quandt and Arie Wallert
Analytical study of the evolution of panel painting technique in Valencian workshops from the fourteenth to the seventeenth century
M.T. Domenech, R. Mateo, V. Peris, J.V. Gimeno, F. Bosch, E. Aura and E. Lopez
The mediaeval polychromy of the Majestic West Portal of Toro, Spain: insight into the workshop activities of late mediaeval painters and polychromers
Melissa R. Katz
English fourteenth-century interior polychromy: manuscript sources and workshop practice at Exeter Cathedral
Anna Hulbert
The Thornham Parva retable: workshop practice in fourteenth-century English panel painting
Louisa Goldsmith and Spike Bucklow
The recipe collection of Johannes Alcherius and the painting materials used in manuscript illumination in France and Northern Italy, c. 1380-1420
Nancy Turner
Painting techniques in the Boucicaut Hours and in Jacques Coene's colour recipes as found in Jean Lebègue's Libri Colorum
Bernard Guineau, Inès Villela-Petit and Jean Vezin
Painting on parchment besides miniatures: scientific analyses and a study of the artistic techniques of Giovannino de' Grassi's model book
Letizia Montalbano, Michela Piccolo and Maria Grazia Vaccari
Late mediaeval wall painting techniques at Farleigh Hungerford Castle and their context
Helen Howard, Tracy Manning and Sophie Stewart
The 'Calvary' of S. Francisco's church in Leiria: workshop practice in a Portuguese late Gothic wall painting
Graça Gorta, Isabel Ribeiro and Luís Afonso
The construction and painting of a large Castilian retable: a study of techniques and workshop practices
Sam Hodge, Marika Spring and Ray Marchant
Oil painting in the late Middle Ages in Spain: the relationship of style to technique in the Epiphany Altarpiece of Saint Paul's Convent in Toledo
Marta Presa, Rocío Bruquetas and Marco Connor
Stylistic, technical and material developments in the paintings of Giovanni di Paolo
Elyse Klein, Eric Gordon and Karen French
Piero della Francesca's process: panel painting technique
Roberto Bellucci and Cecilia Frosinini
The Washington Portrait of a Lady by Rogier van der Weyden reconsidered in light of recent investigations
Catherine A. Metzger and Michael Palmer
The origin and significance of marbling and monochrome paint layers on frames and supports in Netherlandish painting of the fifteenth and sixteenth centuries
Hélène Verougstraete and Roger van Schoute
The relationship between Albrecht Dürer's palette and fifteenth/sixteenth-century pharmacy price lists: the use of azurite and ultramarine
Andreas Burmester and Christoph Krekel
Artistic exchange and experimental variation: studies in the workshop practice of Lucas Cranach the Elder
Gunnar Heydenreich
Some aspects of the utilization of different wood species in certain European workshops
Peter Klein
Contribution to the study of grounds for panel painting of the Spanish School in the fifteenth and sixteenth centuries
S. Santos Gómez, M. San Andrés Moya, J.L. Baldonedo Ródriguez, O. Conejo Sastre, M.I. Báez Aglio and A. Rodriguez Muñoz.
The development of painting on coloured surfaces in sixteenth-century Italy
Jill Dunkerton and Marika Spring
The Elizabethan wall paintings of Hill Hall: influences and techniques
Tobit Curteis
Antwerp artists and the practice of painting on copper
Michael K. Komanecky, Isabel Horovitz and Nicholas Eastaugh
Peter Stas: an Antwerp coppersmith and his marks (1587-1610)
Jørgen Wadum
Esaias van de Velde's technical innovations: translating a graphic tradition into paint
E. Melanie Gifford
A note on technical aspects of prints and paintings of Hercules Segers
Arie Wallert
Sixteenth- to eighteenth-century green colours in landscape and flower paintings: composition and deterioration
Jo Kirby and David Saunders
A new lead-based yellow in the seventeenth century
Ashok Roy and Barbara H. Berrie
Indigo used in the Haarlem Civic Guard group portraits by Frans Hals
E. Hendriks, M. van Eikema Hommes and K. Levy-van Halm
Italian wall painting in oil: Carlo Bononi and Ferraù Fenzoni, two artists of the seventeenth century
A. Tucci, F. Bevilacqua, C. di Francesco and V. Tagliatti
Eight seventeenth-century decorative paintings – one painter?
Tone Marie Olstad and Kristin Solberg
Seventeenth-century church paintings of Gottfried Hendtzschel: technical examination and church records
Tine Frøysaker
French eighteenth-century painting techniques
Elma O'Donoghue, Rafael Romero and Joris Dik
The political construction of fragility and French arts policy around 1750
Thea Burns
The technique of Sir Henry Raeburn examined in the context of late eighteenth-century British portraiture
Lesley A. Stevenson
Supplying artists' materials to Australia 1788-1850
Erica Burgess and Paula Dredge
Nineteenth-century paint media: the formulation and properties of megilps
Joyce H. Townsend, Leslie Carlyle, Aviva Burnstock, Marianne Odlyha and Jaap J. Boon
Mixing and mingling: John Constable's oil paint mediums c. 1802-1837, including the analysis of the 'Manton' paint box
Sarah Cove
An examination of the relationship between the materials and techniques used for works on paper, canvas and panel by Honoré Daumier
Aviva Burnstock and William Bradford
G.F. Watts in context: his choice of materials and techniques
Jacqueline Ridge and Joyce H. Townsend
Methods and materials of the Pre-Raphaelite circle in the 1850s
Libby Sheldon
Absorbent grounds and the matt aesthetic in Post-Impressionist painting
Vojtech Jirat-Wasiutynski and H. Travers Newton Jr
The Life of a Painter: technical information in painters' biographies and autobiographies published in Britain 1820-1940
Sally Woodcock
Painting materials research in Munich from 1825 to 1937
Bruce F. Miller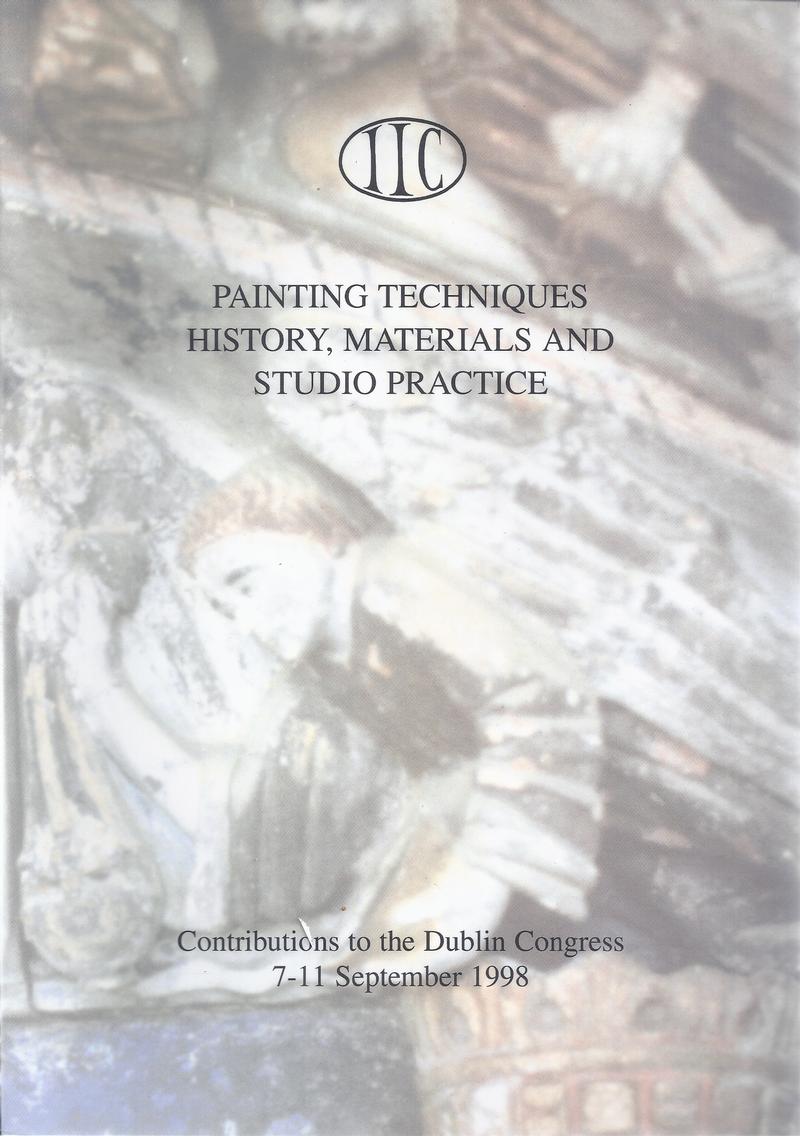 ISBN 0950052582
Binding Paperback
Dimensions 297 x 210mm
Pages 268
Illustrations 103 colour, 153 halftone
Published December 1998
Price £40.00