IIC 2004 Bilbao Congress
Modern Art, New Museums
Contributions to the Bilbao Congress 13-17 September 2004
Glasgow's Burell Collection: experiences from twenty years of a new museum
Norman H. Tennent
Launching a new museum: upward displacement air-conditioning and computer-controlled daylight illumination
Andreas Burmester, Marcus Herdin, Albert Meyer and Robert Ottitisch
Into the new millennium: conservation input for four twenty-first century arts buildings
Thomas Dixon
The Museum of Scotland and conservation issues of commissioned art
James Tate, David Clarke, Helen Spencer and Belén Cobo Del Arco
Anselm Kiefer at the Guggenheim Museum Bilbao: towards a new methodology for the preventive conservation of contemporary artworks
Silvia Lindner, Ana Vitoria and Laura Alba
Handling White Cube
Tom Hale
Meaning matters: collaborating with contemporary artists
Laura Davies and Jackie Heuman
Textile or art? The conservation, display and storage of modern textile art
Ann French
Reworking an interior sketchbook: the conservation and display of 'rød og blå' Anamorphosis
Lorraine Maule, Marianne Torp and Troels Filtenborg
Conserving junk and movement: machines by Jean Tinguely
Reinhard Bek
The management of display equipment in time-based media installations
Pip Laurenson
Readymade - made ready: the treatment of Marcel Duchamp's Why Not Sneeze Rose Sélavy?
Roger Griffith and Kate Moomaw
Conservation of a work by Soto: treatment of iron corrosion on paint
Hubertus A. Ankersmit, Rebecca Timmermans and Sandra Weerdenburg
The conservation of four monumental shuttlecocks
Paul L. Benson
The maladies of mill-produced metal in modern art
Eleonora E. Nagy
The conservation of Arp's bronzes: preserving the sculpture's history or the artist's intent?
Martha C. Singer and Valerie Fletcher
The works of John DeAndrea: an evolution of techniques, materials and stability
Jessica Fletcher, Kristine Jeffcoat, Carl Patterson and Sharon Blank
Operation Panamarenko
Claartje Van Haaften
The AXA Art Conservation Project in cooperation with the Vitra Design Museum: research into glassfibre-reinforced polyester
Kathrin Kessler, Thea Van Oosten and Henk Van Keulen
Modern plastics: do they suffer from the cold?
Yvonne Shashoua
Weighing the options: analysis and treatment of Paul Thek's Fishman as a vehicle for public education
Tatiana Ausema, Susan Lake and Walter Hopwood
The degradation of polyester polyurethane: preliminary study of 1960's foam-laminated dresses
Doon Lovett and Dinah Eastop
Living artist, living artwork? The problem of faded colour photographs in the work of Ger van Elk
Sanneke Stigter
The big picture: conservation research program for contemporary color photographs
Lee Ann Daffner and Christopher McGlinchey
Mounting substrates for contemporary photographs
Sylvie Pénichon
Creative collaborations: preservation dialogues between artists and fine art publishers
Kristi Dahm and Margo McFarland
Creating an illusion: the complexities of conserving working drawings by Bridget Riley
Sophia Fairclough and Caroline Harrison
Kaleidoscopic exuberance and colour asceticism: Edelfelt's Portrait of Ackté
Tuulikki Kilpinen and Marina Catani
Les demoiselles d'Avignon: core of Picasso's laboratory
Michael Duffy
A technical investigation of paints used by Jackson Pollock in his drip or poured paintings
Susan Lake, Eugena Ordonez and Michael Schilling
Intuition and the incidental: the paintings of Barnett Newman
Suzanne Penn
Unusual substitute materials in paintings, based on the example of Socialist Realism in eastern Europe
Iwona Szmelter and Jacek Gramatyka
The conservation of Beat Art, with a focus on Jay Defeo
Niccolo Caldararo
Pop revisited: the collage and assemblage work of Tom Wesselmann
Daria Keynan
The restoration of a group of works of art by Piero Gilardi
Antonio Rava, Roberta Verteramo and Oscar Chiantore
Reversal versus retirement: study and treatment of Black Painting, 1960-66 by Ad Reinhardt
Carol Stringari, Ellen Pratt and Christopher McGlinchey
Analysis of the painted œuvre of Jean-Paul Riopelle: from oil to mixed media
Marie-Claude Corbeil, Kate Helwig and Jennifer Poulin
Palermo at work
Pia Gottschaller
Josef Alber's monumental Homage to the Square
James Hamm
Conservation of murals in the Alameda Theatre: reviving former cutting-edge fluorescent paint and black-light technology
Jia-Sun Tsang, Sarah Eleni Pinchin, Killis Almond and Charles S. Tumosa
America's colormen: Bocour, Levison, Gamblin, and Golden
Joyce Hill Stoner
ASTM International standards for artists' materials and their effects on modern paints
Mark D. Gottsegen
Characterization of alkyd paint media by gas chromatography – mass spectrometry
Michael R. Schilling, Joy Keeney and Tom Learner
The migration of surfactants in acrylic emulsion paint films
Shawn Digney-Peer, Aviva Burnstock, Tom Learner, Herant Khanjian, Frank Hoogland and Jaap Boon
Sharing knowledge for the conservation of contemporary art: changing roles in a museum without walls?
Ijsbrand Hummelen and Tatha Scholte
Poster summaries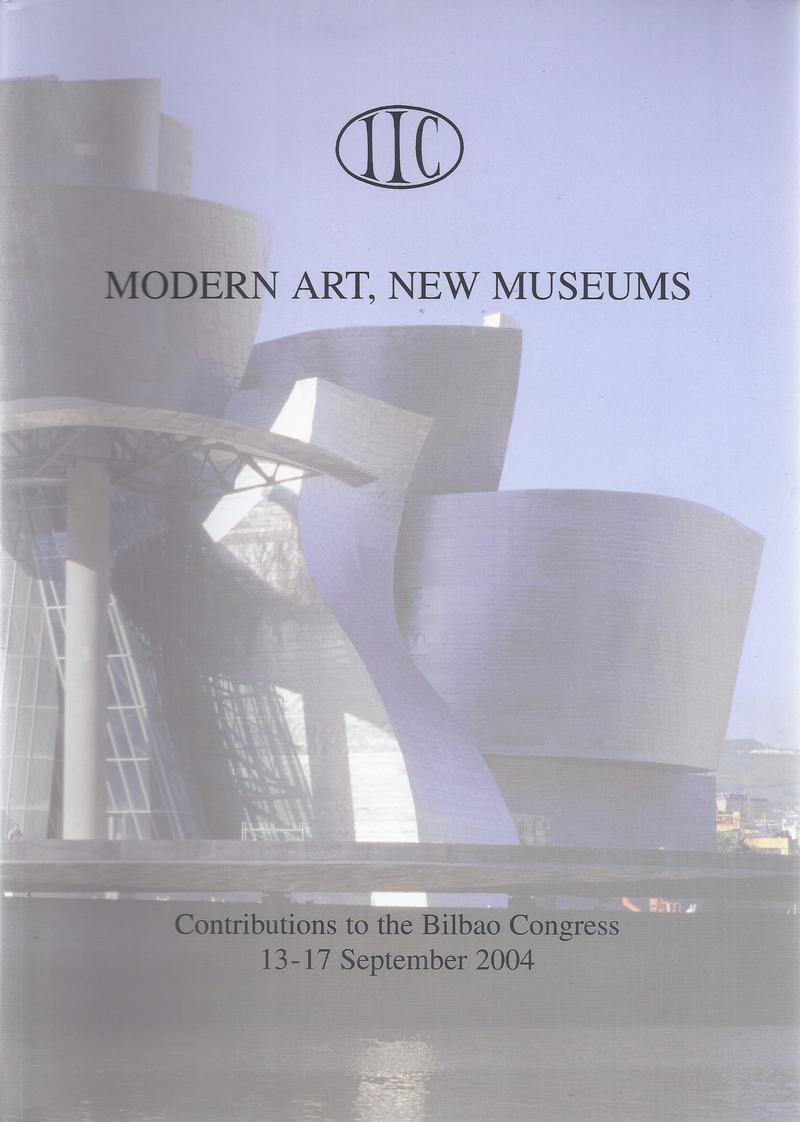 ISBN 0954816900
Binding Paperback
Dimensions 297 x 210mm
Pages 264
Illustrations 90 colour, 160 halftone
Published December 2004
Price £40.00