Integrated Pest Management for Collections
This collection of papers and posters presented at the ICON conference A Pest Odyssey – The Next Generation is evidence that integrated pest management (IPM) has been adopted globally as the accepted strategy within the cultural heritage sector to mitigate the risk posed to our unique collections by damaging pests. In 2021, after an unprecedented period of change in our work practices in response to restrictions during the COVID-19 pandemic, a greater emphasis was placed on collaboration, remote monitoring and, of course, silverfish. 
You can have a look inside the book here.
In memoriam: a personal tribute to Bob Child (1951–2019)
David Pinniger
Introduction
Suzanne Ryder and Amy Crossman    
IPM strikes back: reviving a slumping IPM program
Alan P. Van Dyke      
An oasis for pests? Setting up IPM in the Emirate of Abu Dhabi
Maickel van Bellegem, Eleonora Bosetto, Anabela Ferreira, Anthony Read, Fatima Al Tamimi and Mafalda Veleda
What's bugging you? Research involved in the development of collection-specific IPM software and pest databases
Melissa King, Ana Martins, Nathan McMinn and Austin Senseman
Remote monitoring for museum pests: a 21st-century approach
Adrian M Doyle, Patrick Kelley, Fabiana Portoni, Tatiana Marasco and Carlos Austin Gonzalez 
Training, tools and technology for managing IPM at the Victoria and Albert Museum, London
Bhavesh Shah, Valerie Blyth, Maria Ines Carvalho and Anne Bancroft  
The use of technology to manage the next generation of house mice
Chris Swindells
The attractive qualities of wool and larval frass on wool to the webbing clothes moth (Tineola bisselliella)
Patrick Kelley, Rachael Arenstein and James Feston 
The detection of grey silverfish (Ctenolelepisma longicaudatum Escherich, 1905) in the Museum of Applied Art, Frankfurt/Main
Christian Dressen
Preserving Peruvian organic cultural heritage using Andean lupin (Lupinus mutabilis) extracts
Angélica Isa, Carolina Parada, Marilyn Palomino and Eliana Quispitupac
Screening of two plant-derived extracts from Sri Lanka for their potential to control the subterranean termite Coptotermes formosanus
Rudy Plarre, Udaya Cabral and Pascal Querner 
Preliminary trials with reduced temperatures in humidity controlled warm-air treatment: a gentler and more efficient way to disinfest artworks and cultural heritage objects
Thomas Kolling, Eva-Maria Fennert, Thomas Schmitt and Nikolaus Wilke
Efficacy of a low-cost simple solar heating box to eradicate insect pests in Sri Lankan libraries 
Udaya Cabral, Deepika Amarasinghe and Pascal Querner 
From discovery to recovery: managing a webbing clothes moth infestation at the Peabody Museum of Archaeology and Ethnology at the University of Harvard
Cassy Cutulle, Matthew Vigneau, Molly Richmond, Khanh Nguyen, Lindsay Koso and Mollie Denhard
Infestation stations! A novel full-cycle approach to webbing clothes moth (Tineola bisselliella) eradication at Blickling Hall, Norfolk
Hilary Jarvis, Nigel Blades, Ellie Hobbs and David Loughlin
Using parasitoid wasps in integrated pest management for cultural heritage in Germany
Stephan Biebl
Pest comparison of three treatment methods for archival materials against grey silverfish (Ctenolepisma longicaudatum Escherich, 1905): re-evaluation of the efficacy limits of freezing, heating and anoxic treatment with oxygen absorbers
Judith Wagner, Pascal Querner and Andrea Pataki-Hundt
Pest Partners: increasing engagement with IPM
Helena Jaeschke
Adjusting to fit: shifting an organisation's approach to integrated pest management to better reflect cultural protocols, legal requirements and workplace dynamics
Nyssa Mildwaters and Shannah Rhynard-Geil
Pestily ever after: 20 years of IPM at National Museums Scotland
Catherine Haworth
Eltham Palace: 900 years of history, 20 years of IPM in practice
Dee Lauder and David Pinniger
IPM at Kyushu National Museum: developing strategies and cooperation
Rika Kigawa, Hiroki Watanabe, Ayako Izumita, Shiho Tomimatsu and Mika Matsuo
Instruction versus practice: where can we improve upon IPM?
Alex Rowe, Simoní Da Ros and Katherine Curran
Integrated pest management: from monitoring to control
Christian Baars and Jane Henderson
An international IPM survey of resources and activities conducted by the MuseumPests Working Group
Lisa Goldberg, Eric Breitung, Zoë Hughes, Suzanne Ryder, Julie Unruh and Joel Voron
Warrang/Sydney IPM Group: a regional-specific digital collaborative forum
Jessica Gray and Rehan Scharenguivel
From pamphlets to websites: the evolution of IPM resource material
David Pinniger, Amy Crossman and Jane Thompson Webb 
Debugging instructions for easy empowering IPM
Christa Deacy-Quinn
A collaborative approach to developing and IPM programme in Myanmar
Amy Crossman
The pesty business of translation: a global collaboration to bring MuseumPests.net to a wider audience
Fabiana Portoni, Laura García-Vedrenne, Silvia Manrique, Jessica Lewinsky, Beatriz Haspo, María Castañeda, Christian Untoiglich, Amparo Rueda, Sandra Joyce Ramirez, Armando Mendez, Rachael Perkins Arenstein and Paloma Mujica
And then there were none: the successful treatment of a silverfish (Lepisma saccharinum) outbreak during the COVID-19 pandemic
Catherine Harris and Alexandra Walker
Grey silverfish (Ctenolepisma longicaudatum Escherich, 1905) at the National Gallery, London: the importance of monitoring and advocacy in IPM
Kristina Mandy and Sarah Coggins
The use of Advion Cockroach Gel Bait against the grey silverfish (Ctenolepisma longicaudatum Escherich, 1905) in museums in Austria
Pascal Querner 
Poster presentations
First occurrence of Oligomerus ptilinoides (Coleoptera: Ptinidae) in domestic premises in the UK
Matthew Paul Davies and Jonathan Binge
Battling booklice in Scottish galleries, libraries, archives and museums
Jeanne Robinson, Joseph C. Jackson and Ashleigh L. Whiffin
Seasonal changes in the distribution of head capsule size of a silverfish species
Hiroki Watanabe, Rika Kigawa and Tom Strang
Mice and moths: from one infestation to another
Greg Fee
New adventures in IPM quarantine: still work in progress
Volker Hingst
Targeting grey silverfish (Ctenolepisma longicaudatum Escherich, 1905): implementing an effective IPM programme in a small to mid-sized institution on a limited budget
Antonia Reime Aabø 
Selective feeding on paper and cardboard and limited dispersal of the long-tailed silverfish (Ctenolepisma longicaudatum Escherich, 1905) in archives
Volker Busch, Sabine Prozell and Matthias Schöller 
Conservation of cultural heritage: biological control of the common furniture beetle (Anobium punctatum) with the parasitoid wasp species Spathius exarator
Judith Auer, Christine Opitz and Alexander Kassel
Making room for traditional ecological knowledge in conservation: learning by example
Elizabeth Salmon
The history of integrated pest management (IPM) at the Natural History Museum, London
Suzanne Ryder and David Pinniger
The Spiraea who came in from the cold: treating an entire collection, kitchen sink and all
Clare Booth-Downs and Yvette Harvey
Insect pests underground: managing pests in the secret wartime tunnels under Dover Castle
Wendy Richardson
Management of priorities, goals, and training in the execution of a pest mitigation project at the Peabody Museum of Archaeology and Ethnology
Cassy Cutulle
Advocating for IPM during a pandemic when a local authority has bigger concerns
Gwenllian Thomas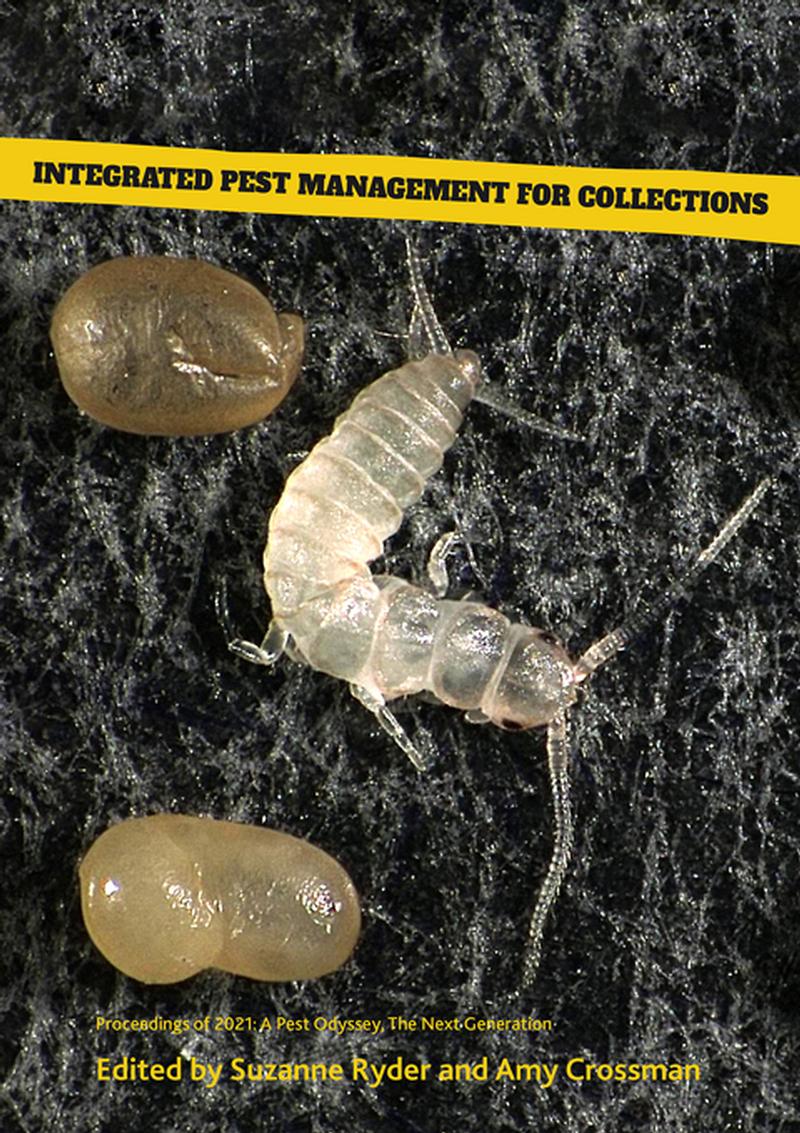 ISBN 9781909492837
Binding Paperback
Dimensions 210 x 297mm
Pages 262
Published February 2022
Price £45.00