Scientific Analysis of Ancient and Historic Textiles
Informing Preservation, Display and Interpretation
Papers in this volume cover various aspects of the deterioration of textiles and the different scientific techniques that can be applied to investigate the characteristics of historic textiles, their fibres, dyes etc. The authors include textile, paper and painting conservators, conservation scientists, chemists, archaeologists, engineers, biochemists and a zoologist.
This is the first of a series of three volumes of papers emanating from the conferences of the AHRC Research Centre for Textile Conservation and Textile Studies, Textile Conservation Centre, University of Southampton. The themes for the succeeding volumes are, respectively:
-The Future of the 20th Century: Collecting, Interpreting and Conserving Modern Materials, and
-Textiles and Text: Re-establishing the links between archival and object-based research.
Dr Paul Wyeth, Lecturer in Conservation Science and the conference organiser, commented: 'Historic textiles represent a hugely important part of material culture; they provide rich evidence of social history, international trade, agricultural development, artistic trends and technological progress. Analytical science can play a major role in ensuring the appropriate interpretation, essential preservation and continued enjoyment of such cultural heritage.'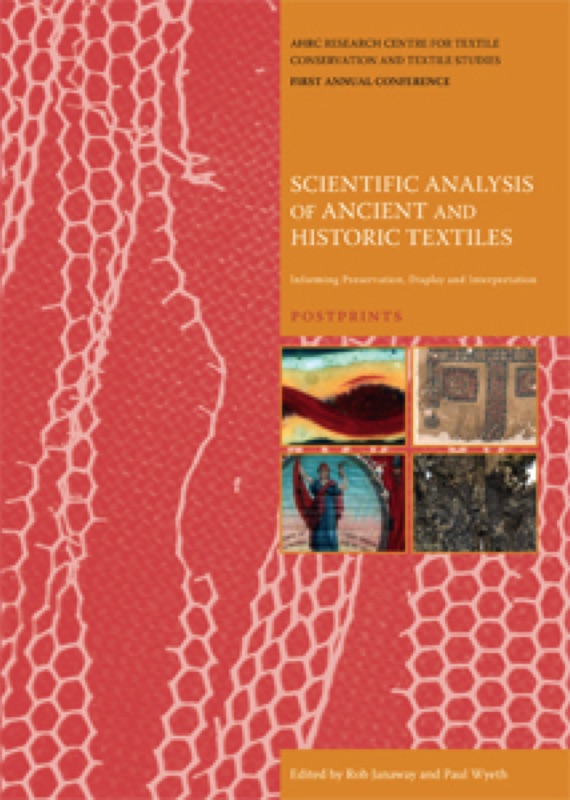 ISBN 1873132794
Binding Paperback
Dimensions 210 x 296mm
Pages 280
Illustrations 20 colour, 120 halftone
Published September 2005
Price £47.50