State Beds and Throne Canopies
Care and Conservation
State Beds and Throne Canopies: Care and Conservation is the first publication to concentrate solely on state beds and throne canopies in England, covering not only their historical and stylistic developments and the role that they played in the theatre of courtly ritual, but more importantly focusing on the surviving objects themselves and the care they now receive.
The specific subjects of this book are the state beds and throne canopies at Hampton Court Palace and Kensington Palace. Different in style, construction and hangings, they reflect the changing times, circumstances, court use and character of their owners. Increasingly rare, they pose problems of access, conservation treatment and financial provision. Practical guidelines are provided for conservation approaches, with short case history summaries that bring together knowledge and experience gained from working in a unique situation with an unparalleled collection of court furnishings. The information accrued and the strategies that have evolved to cope with these rare objects are outlined.
For more than 20 years Val Davies has been responsible for the conservation management of these extraordinary, large-scale, multimedia furnishings at the Textile Conservation Studio, Hampton Court Palace. In addition to working closely with the Royal Collection, her work has encompassed similar beds and canopies, both in England and abroad, and she has been consulted by conservators and curators from such establishments as the Victoria and Albert Museum, the National Trust and English Heritage.
Containing a vast amount of detail not found elsewhere, this lavishly illustrated work is a valuable reference not only to conservators, but also to owners, curators and collection managers who may not have access to specialist advice 'in house', and to a wider audience of all those with an interest in culutral heritage and in preserving it for future generations to enjoy.
Published in association with Historic Royal Palaces
For a look inside click here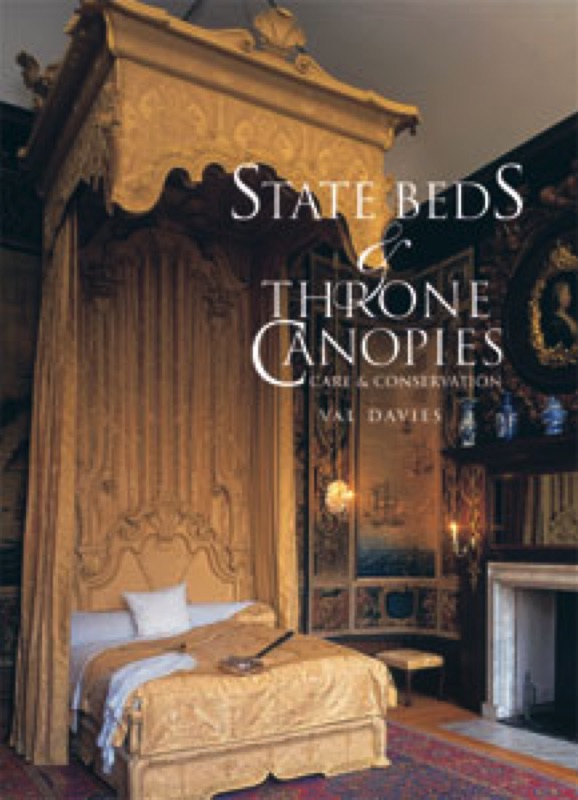 ISBN 1873132581
Binding Hardback
Dimensions 213 x 287mm
Pages 178
Illustrations 62 colour, 131 halftone
Published June 2003
Price £49.50