The Artist's Assistant
Oil Painting Instruction Manuals and Handbooks in Britain 1800-1900 with Reference to Selected Eighteenth-century Sources
At the beginning of the nineteenth century, although artists' colourmen sold oil paint ready-prepared in bladders, artists were still accustomed to purchasing pigments, oils, and other components for their paint separately, combining them according to published information, experiment, personal preference or hearsay. By the close of the century, however, artists' colourmen were providing tube paints for export worldwide and artists, now dependent on the colourmen, were calling for product labelling, to enable professional and amateur painters alike to have full knowledge about what they were using. The science of artists' paint production had undergone a transformation.
In her meticulously researched study Dr Leslie Carlyle has examined artists' manuals, catalogues and trade journals produced in Britain, and later in the United States, during this period of transition in the artists' materials and techniques. She has compared all the extant editions of widely reprinted books and sought out publications which, although obscure now, were highly influential in their time. Recipes for varnishes, vehicles, paint mediums and grounds have been compared and tabulated. Methods of painting have been described, and the 'artistical' properties of pigments, their working qualities, drying times and cautionary notes on their use, have all been compiled in an extensive appendix.
Fascinating, accessible and carefully structured, The Artist's Assistant is the first comprehensive and critical analysis of information on nineteenth-century artists' materials. It is an invaluable resource, not only for conservators and historians of art technology, but also for artists, researchers and teachers who wish to work with authentic materials.
Illustration credits
Preface
Introduction: sources
The study of artists' handbooks, manuals and treatises
The purpose of the books
The advantages to society
Economic considerations
The education of the artist
The durability of artists' materials
Contents of the primary sources
Supplementary sources
Originality of their information
Eighteenth-century sources
Nineteenth-century oil painting instruction manuals
Description of the instruction manuals
Colourmen's handbooks
Translations of foreign instruction manuals
Sources published in America
Handbooks and reference manuals
Compendiums of the arts
The impact of English historical sources
The contemporary impact of the books under study
Notes and References
Part I Materials: oils and driers
Chapter 1: fixed or drying oils
Introduction
Linseed oil
Poppy oil
Nut oil
Drying times for oils
Availability
Other oils mentioned in the sources
Substitutes for oil
Canada balsam and copaiba balsam
Oleoresinous medium
Egg-based mediums
Notes and References
Chapter 2: Processing of oils
Introduction
Extraction of the oil from seeds
Clarification or purification of oils
The presence of mucilage
Methods of clarification without using heat
Clarification by repose
Clarification with litharge
Clarification with snow
Clarification using water alone
Clarification using water and driers
Methods of clarification using heat
Combined clarification and drying oil preparations
Clarification using calcined bone and animal charcoal
Clarification using sulphuric acid
Winsor & Newton's method in c. 1896
Methods for preparing drying oil
Introduction
Drying oil preparation and the colour of the oil
Preparation of drying oils without using heat
Preparation of drying oil using heat alone
Boiled oil
Japanner's gold size
Notes and References
Chapter 3: Driers
Introduction
Litharge
Sugar of lead (lead acetate)
Combination of lead acetate with zinc sulphate
Lead driers
Zinc sulphate
Manganese compounds
Siccatif
Siccatif de Harlem
Siccatif de Courtrai
Varnishes as driers
Other materials suggested as driers for oil paint
The use of pigments as driers
Summary of driers
Notes and References
Part II Materials: resins and varnishes
Chapter 4: oil varnishes
Introduction
Copal varnish
Recipes for copal varnish
Copal varnish ingredients
Kauri or Cowdi resin as a substitute for copal
Solvents and diluents for copal varnishes
Oils
Turpentine and other oleoresins
Other solvents
Sulphuric ether
Caoutchouc solvent
Driers for copat varnish
Availability
The artists' colourmen
Copal oil varnish and copal varnish
Copal oil
Amber varnish
Introduction
Amber resin
Recipes for amber varnish
Availability
First appearance of amber varnish
Colour of amber varnish
Summary
Notes and References
Chapter 5: spirit varnishes
Introduction
Mastic varnish
Sources of mastic resin
Summary of adulterants for mastic resin
The preparation of mastic varnish
The selection of the resin
Mastic varnish preparation
Simple mastic varnish
Mastic varnish recipes including glass
Mastic vamishes made with additional resins
Mastic varnish recipes including rosin
Mastic resin with sandarac resin
Plasticising ingredients in mastic vamishes
Oleoresinous ingredients
Mastic varnish recipes including camphor
Other plasticisers: elemi and drying oil
The availability of mastic varnish
Colourmen's recipe books
Artists' colourmen catalogue
Mixed spirit vamishes
White spirit varnish
Brown hard spirit varnish
Other spirit vamishes
Turpentine varnish
Crystal varnish
Other vamishes listed by the colourmen
Dammar varnish
Gum cat's-eye
Vibert's vamishes
White lac varnish
References to the use of white lac varnish
Water varnish
White lac varnish ingredients
Availability
Use by artists
Problems in durability
Summary
Notes and References
Part III Materials: mediums and oil paints
Chapter 6: vehicles and mediums
Introduction
Gelled mediums
Megilp
Origins
Ingredients for megilp
Megilp ingredient ratios
The oil
White or pale and brown megilps
Mastic varnish
Preparation instructions
Substitution of other resins in megilp
Copal megilp
Amber megilp
The availability of megilp

Criticisms of megilps
Gumtion
The original recipe
Gumtion variations
Gumtion variation with mastic varnish
Flanders varnish
Gumtion variations with water: emulsion medium
Availability of gumtion
Usage properties of gumtion and criticisms
Other medium variations using lead acetate, oil and resin
Copal varnish with oil and lead acetate
Complex medium recipes with lead acetate
Other materials used to form gelled mediums
Animal products: glue and egg
Vegetable gums
Starch
Soap
The use of wax in medium preparations
Wilson's vehicle recipe (wax and oil only)
Bleached beeswax vehicle (wax with resin and oil)
Italian varnish (wax with resin and oil)
Flanders medium (wax with resin and oil)
The amount of wax recommended in medium preparations
Commercial wax mediums and Roberson's recipes
Commercially prepared wax colours
Blackman's oil colour cakes
Reeves & Sons' watercolours prepared with wax
Wax: properties in use and criticisms
Wax adulteration
The use of paraffin wax
Wax as an ingredient in commercially prepared oil paints
Encaustic and emulsion mediums
The role of oil
Encaustic methods and vehicles
Caylus and Muntz methods
Febbroni method
Miss Greeniand's method
Emulsion vehicles and mediums
White lac and borax emulsion
Application of the borax and white lac medium
Other applications of borax
The material
Glass medium
Painter's cream
Other vehicles
Isinglass in alcohol
Milk (casein)
Caoutchouc vehicle
Varnishes as additions to oil paint
Varnish painting
The Venetian method
Vehicles made by substituting or reducing the oil
Copal varnish in painting mediums
Copal varnish used alone as a vehicle
Copal painting mediums
Copal varnish with oil and turpentine
Popularity of copal varnish in mediums
Criticisms of copal varnish
Texture
Recipes for copal mediums
Copal in commercially prepared mediums
Roberson's medium
Roberson's copal preparation
Other commercially prepared copal mediums
Amber varnish as a painting medium
Availability
Colourmen's recipe books
Properties in use
Sandarac and white lac used in vehicle preparations
Sandarac
White lac varnish
Other resinous materials
Mediums with oil and turpentine alone
Oil and oil of spike: Bell's medium
Notes and References
Chapter 7: solvents and dilutents
Turpentine
Properties in use
Availability
Camphine
Oil of lavender, oil of spike and rosemary oil
Availability
Lemon oil and orange oil
Naphtha and petroleum
Availability
Notes and References
Chapter 8: oil paint and pigments
Introduction
The preparation of oil paint
Washing pigments
Calcination
Grinding pigments in oil
The ground glass slab
Stages in grinding pigments
Powdered pigments and drop colours
Machine grinding
Grinding media and vehicles
Seasonal variations
Fattening
The quality of commercially prepared paint
Oil separation
Additives to prepared oil paints
Additive-free oil paint
Adulteration of artists' oil paint
Student quality paints
Nineteenth-century pigments
Substitutions
Synonyms
Adulterants
Pigment quality
Coal tar colours
Availability
The range of choice
Notes and References
Part IV Materials: grounds and supports
Chapter 9: grounds
Introduction
History of preparation
Absorbent grounds
Venetian grounds
Grandi's Venetian ground
Other absorbent grounds
Variations on absorbent ground
Casein and skimmed milk grounds
Flour paste grounds
Egg grounds
Indian rubber or caoutchouc grounds
Oil grounds
Oil ground recipes
Flexibility of grounds
Driers in ground preparation
Change in lead grounds
Zinc white grounds
Special grounds
Paper or muslin over grounds
Grecian grounds
Artists' preparations over commercial grounds
Ground application
The canvas
Size layers
Size ingredients
Animal glue, or fish glue
Size application
Flexibility in the size layer
Alum in size preparations
Zinc sulphate
Starch-based sizes
Cellulose derivatives as size replacements
The colour of the ground
Ground texture
Availability
Protecting the back of the canvas
Damp protection
Protection against noxious gases
Ground preparations for panels
Note and References
Chapter 10: painting supports
Introduction
Canvas
Dimensions
Availability
Canvas supports from Winsor & Newton and Reeves
Canvas in rolls
Canvas on frames
Pre-cut prepared canvas
Canvas weaves available commercially
Panels
Availability
Boards
Millboards and Academy boards
Disadvantages
Availability
Etty boards
Canvas boards
Oil sketching tablets
Other boards available from Winsor & Newton
Oil sketching paper
Solid blocks for sketching in oil
Grecian supports
Other supports
Notes and References
Part V: Painting methods: systems and application
Chapter 11: systems of painting
Introduction
Transparent and opaque painting
Painting at once
Colour mixtures and systems of instruction
Setting the palette
Painting in stages
The first painting or dead colouring
The use of contrasting colours in underpainting
'Fat-over-lean' paint application
The second painting
The third or last painting, or finishing
Notes and References
Chapter 12: paint application
Introduction
Preparation for painting
Sealing absorbent grounds
Preparing oil grounds
Greasiness of dried oil paint
Recommendations for degreasing the surface
Degreasing the oil ground
Degreasing between paint layers
Other purposes in treating an oil ground
Lead compounds in grounds
Materials for underdrawing
Copying the sketch onto canvas
Changing the dimensions of copies from the original
Underdrawing in paint
Thinned oil paint
Watercolour underdrawing
Toned underlayers
Watercolour toning
Oil-colour toning
Materials used in underpainting
Distemper underpainting
Other materials used in underpainting: starch, casein, or egg tempera
Preparation for repainting
Sealing the underdrawing and the underpainting
Scraping
Washing and the use of starchy materials
Drying the paint between stages of painting
Intermediate layers between paint applications
Oiling out
Materials for oiling out
The use of oil alone
Mixtures of oil and varnish
Coverage
Alternatives to oil in oiling out
Retouching and retouch varnish
Retouch varnish
The availability and materials in retouch varnish
Recipes for retouch varnishes
Paper interlayer
Methods of paint application
Sinking in
Loading or impasting, and layering
Glazing
Glaze medium
When to apply glaze
Scumbling
Scumbling medium
Toning layers
Paint texture
Brushes
Types of brushes
French brushes
Softeners or badgers
Other brushes
Brush care
The palette knife
Textural effects
The use of multiple mediums and layers
Medium variations for painting skies
Paint application
Other occasions for the use of various mediums in one painting
Changing mediums in glazes and scumbles
Special treatment for certain pigments
Isolation of specific pigments with varnish
Different textures and the treatment of highlights
The use of watercolours in oil painting
Notes and References
Chapter 13: final varnishing
Introduction
Temporary varnishes
Egg white varnish
The ingredients
The purpose
Application
Renewal
Removal
Cracking
Other aqueous varnishes
Isinglass varnish
Gum arabic
Other materials used in water soluble 'varnishes
Availability
Resin varnishes
The protective function of varnish
Vehicle and varnish compatibility
When to varnish
Varnishing instructions
The amount of varnish to apply
Washing the painting before varnishing
Varnishing 'old' paintings
Mastic resin varnishes
Blooming and chilling
Causes and remedies
Summary: causes and remedies for bloom and chill
Copal varnish
Reservations on the use of copal
Cracking
Sulphur-induced darkening
Two layer system of varnishing
Varnishing with copal followed by mastic
White lac varnish followed by 'soft fat varnish
Varley's release layer
Wax varnishes
The need to remove final varnishes
Tinted final varnishes
The emulation of 'old' paintings
Responsibility for final varnishing
Notes and References
Part VI: The durability of nineteenth-century paintings
Chapter 14: The Anticipation of Change in Materials
Introduction
Yellowing of oil
Causes of darkening of the medium
Foul air
Components in lead white pigment
Solutions to the problem
Changing or fading pigments
The effect of lighting conditions
The role of the varnish
Artists' experiments
Notes and References
Chapter 15: responsibility for the quality of artists' materials
Introduction
The artist and his colourman
Responsibility shared
The artist and the manuals and handbooks
Concluding remarks
Notes and References
Appendices
Appendix 1: colourmen's archives
Appendix 2: annotated bibliography of primary sources
Appendix 3: dictionaries and other books consulted
Appendix 4: selected bibliography of other sources consulted
Appendix 5: oils and mediums listed in artists' colourmen's catalogues
Appendix 6: neil's recipe for clarified oil
Appendix 7: oils and drying oils purchased by Roberson
Appendix 8: drying oil recipes and driers sold by artists' colourmen
Appendix 9: varnishes listed by artists' colourmen
Appendix 10: copal varnish recipes
Appendix 11: amber varnish recipes
Appendix 12: mastic varnish recipes
Appendix 13: spirit varnish recipes
Appendix 14: megilp and gumtion recipes
Appendix 15: asphaltum recipes
Appendix 16: recipes for mediums containing wax
Appendix 17: copal and amber mediums
Appendix 18: Winsor & Newton's Oil Vehicles
Appendix 19: excerpts from nineteenth-century sources
Appendix 20: preparation instructions for grounds on canvas
Appendix 21: preparation instructions for grounds on panels
Appendix 22: standard canvas dimensions, supports: Winsor & Newton and Reeves
Appendix 23: transcripts and tables
Appendix 24: vibert on labelling colours
Appendix 25: Roberson's letters: from Holman Hunt, and on Roberson's medium
Appendix 26: nineteenth-century pigments: pigments and colours described or mentioned in the sources
Appendix 27: conversion tables for currency, weights and measures
Index
This huge volume is a godsend to enlighten professionals and students alike about some of the hidden and complex realities that lie on the surface of 19th century paintings. It provides greater understanding of artist's materials and methods and their evolution, and kindles insight and deeper appreciation for the subtle complexities of their ravishing beauty. No serious art scholar, and certainly no museum or art history department library, should be without it.
MUSE magazine, Canadian Museums Association 20(6) (November/December 2002) 60-61
...a highly useful, easily accessible and very important handbook for those concerned with English or English-influenced painting.
Studies in Conservation 47(2) (2002) 139-140
This book contains remarkable scholarship of the highest order. It provides a wealth of information about the development of English oil painting in an accessible and readable way, and each chapter concludes with an extenstive list of notes and references...This is a reference that should be in every art-history library.
CAA Reviews, College Art Association online (April 2005)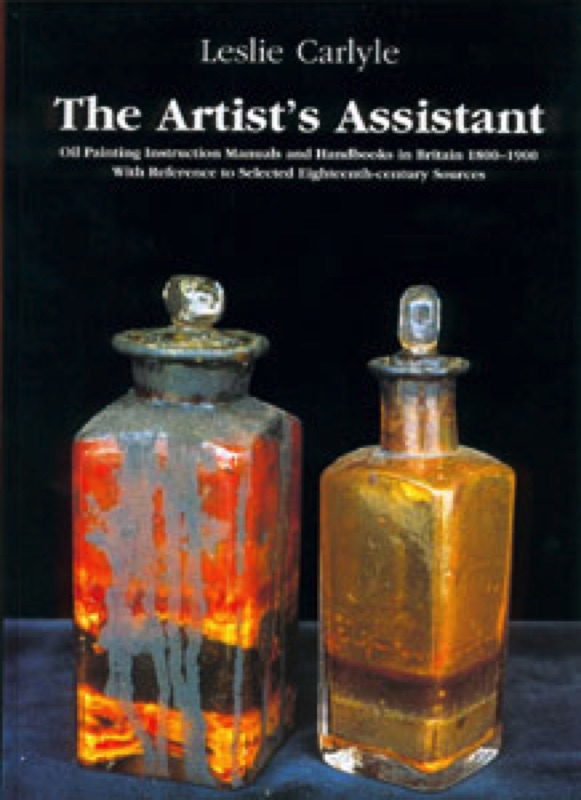 ISBN 1873132166
Binding Hardback
Dimensions 215 x 304mm
Pages 612
Illustrations 20 halftone, 80 line
Published May 2001
Price £135.00