The Conservation, Restoration, and Repair of Stringed Instruments and Their Bows
This three volume title, published by IPCI-Canada in association with Archetype Publications, has 150 articles, 1600 pages and over 1300 illustrations and will be an invaluable resource for both conservators and craftspeople. The outcome of a rigorous selection process by an editorial board of prominent experts, it emphasizes conservation-minded techniques, presents alternative approaches to a wide range of repair issues and is groundbreaking in the extensive attention that it gives to the bow. The work's innovative combination of theory and practice, with extensive cross-referencing, is intended to foster a stimulating dialogue between scholars, conservators, and craftspeople.
In Volume 1, conservators and scholars examine important issues concerning connoisseurship, collections, documentation, materials, surfaces, safety and the environment. It provides highly detailed schemas and the most rigorous and complete system available for the documentation of instruments and bows. The more practical articles that follow in the other two volumes are meant to be considered in light of the ideas raised in these articles.
In Volumes 2 and 3, craftspeople and editors have collaborated to produce detailed technical articles that are generously illustrated with photographs and drawings. Complex processes are broken down into simple steps, and all of the tools and materials required are listed in order of appearance. Terminology and systems of measurement are standardized throughout the work to ensure clarity and precise meaning.
This book is guided by a conservation approach that aims to safeguard our cultural heritage of instruments and bows for future generations. Its sale will help ensure the renewal of this heritage by raising funds for the protection of pernambuco trees.
The Documentation CD-ROM, included with the book, provides editable electronic versions of all Documentation, Condition, and Intervention Report Forms and Diagrams presented in the publication, as well as related introductory texts and the Schemas and Concordances for instruments and bows.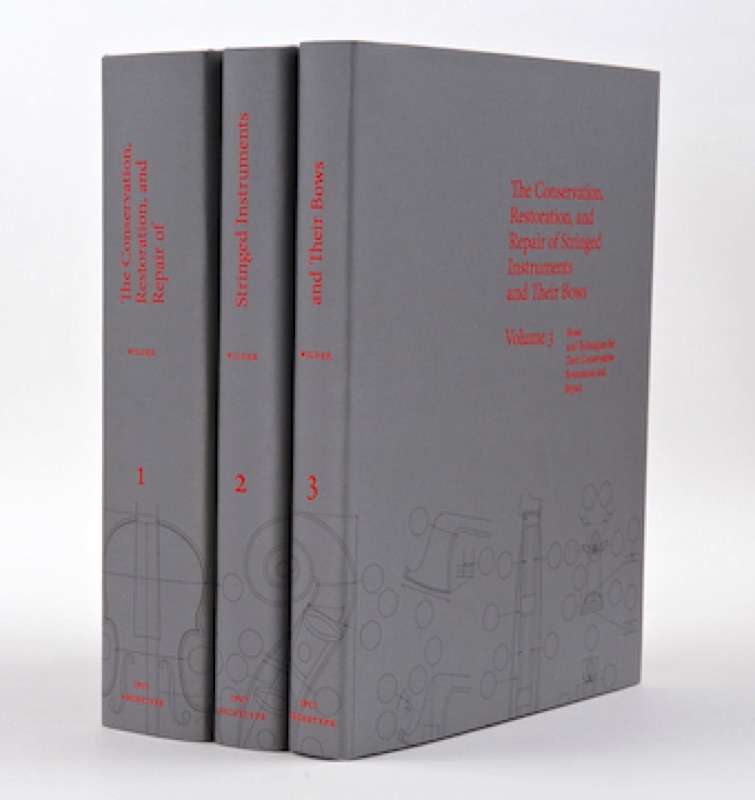 ISBN 9781904982418
Binding Hardback
Dimensions 225 x 287mm
Illustrations 100 colour, 900 halftone, 300 technical drawings
Published February 2011
Price £1,295.00