Artists' Pigments Volumes 1-4 (set)
A Handbook of their History and Characteristics
This this the full set of the four-part series Artists' Pigments: A Handbook of their History and Characteristics published by National Gallery of Art in association with Archetype Publications Ltd. 
The individual titles can be found here:
9781904982746 Artists' Pigments Volume 1 Robert Feller (ed.)
9781904982753 Artists' Pigments Volume 2 Ashok Roy (ed.) - Out of Print individually
9781904982760 Artists' Pigments Volume 3 Elisabeth West Fitzhugh (ed.)  - Out of Print individually
9781904982234 Artists' Pigments Volume 4 Barbara Berrie (ed.)
Each volume concentrates on different pigments. The series is an Encyclopedic Reference intended for:
The practicing artist to learn a pigment's color, hiding power, light-fastness, toxicity, compatibility;
The art historian to know how an artist worked, what pigments were used, whether they were pure or mixed, opaque or tranparent, layered or not;
The conservator to devise techniques necessary for the care and conservation of works of art, to determine what is original, to repair damages, to compensate for missing portions of a painted surface;
The curator and the connoisseur to know the history of manufacture and use of pigments, to authenticate and assign probable dates to works of art;
The conservation scientist to learn identification methods used, including optical microscopy, microchemical tests, X-ray diffraction, infrared and reflectance spectrophotometry, and electron microscopy.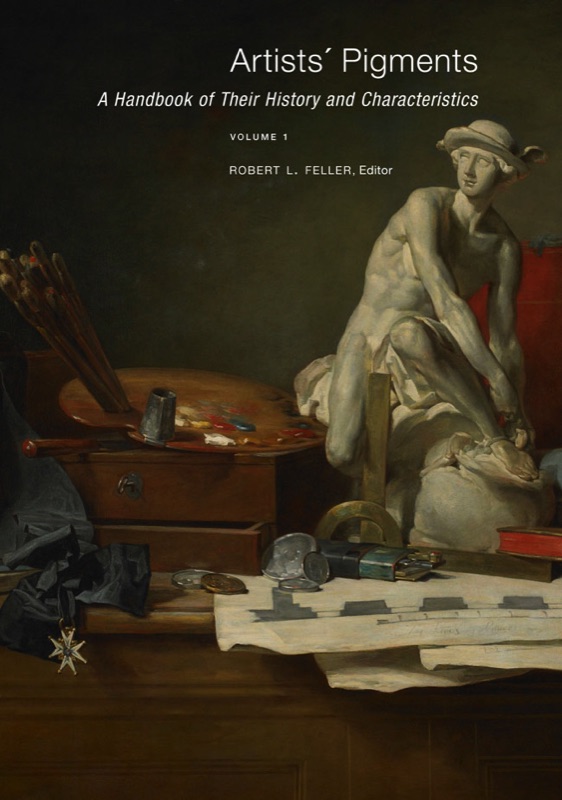 Binding Hardback
Dimensions 251 x 177mm
Pages 1164
Published May 2012
Price £435.00